Domain Proxy service
Let us shield your personal data
Included:
Protect personal data
DNS Backups
TTL control
When you register a domain name, you are contractually required to enter 'Registrant Details' including personal data such as your name, address, email and phone number.
Ordinarily, this data is then sent to the relevant registry for your chosen domain in accordance with the Registry requirements.
For .co.uk, .uk, .me.uk, .org.uk or .net.uk domains the registry is Nominet. If your chosen domain name is a .com or .net, your data will be sent to our own registrar, escrowed, in line with ICANN regulations and when required, the registry, Verisign. Third parties that can show they have "legitimate interest" can then access your personal data from the registries directly.
Let us protect your personal details…
For £6.99 per year - we'll send our names.co.uk contact details to the domain registry, rather than yours, giving you anonymity and privacy.
Don't fret, you'll still be the owner of the domain, it'll just mean your details aren't sent outside of our organisation, where they could be obtained.
with Domain Proxy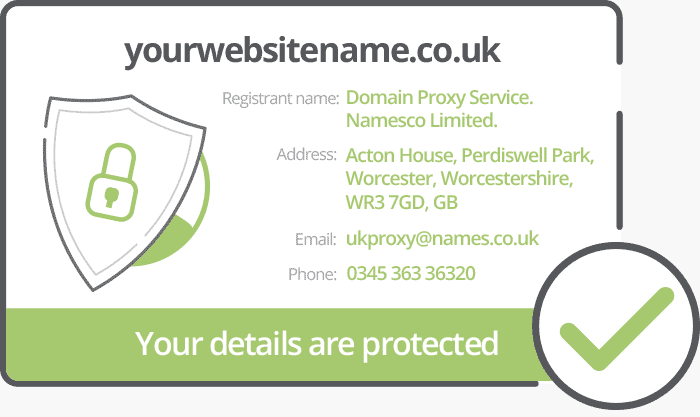 without Domain Proxy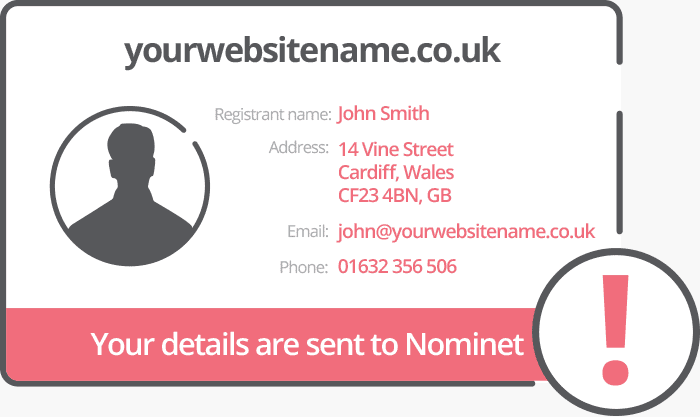 What we do
Place our names.co.uk details against your domain name when sending details of the registration to the registry.
Manage correspondence relating to your domain - email and postal - forwarding anything needing your attention to you.
Filter out any spam or scam emails so they don't clutter your inbox.
Configure your account so you still have full control over your domains names via your Online Control Panel.
Handle any requests from third parties to access your details. Only in rare cases, usually when illegal activity is suspected by law enforcement, would we be obliged to hand over your details.
Give you access to DNS backups and TTL management features so you can enjoy complete peace of mind when making changes.
DNS backups
Having a DNS (Domain Name System) backup puts you in full if you make a mistake changing settings. It works by taking snapshots of your DNS settings automatically so you can revert to a previous state at any time.
TTL management
With TTL (Time to live) you can move your website from one server to another with minimal disruption. It allows you to control how long it takes for your website to appear on a new server, so the transition is fast and smooth for your visitors.
Register your domain with Domain Proxy
If you want to register your domain with Domain Proxy, simply select it during the checkout process and authorise us as your proxy. Then, we take care of everything behind the scenes so your details are protected.
If you don't select Domain Proxy at the point of purchase, your personal data will be sent to the relevant registry and we are unable to retrieve it.
You can add the service at a later date but only new details or updated records will be protected at that point. Please remember, our proxy service only applies to the following extensions: .com, .net, .co.uk, .uk, .me.uk, .org.uk or .net.uk.
What's included?
Protection from prying eyes
Anonymity around your online activity
Reduced exposure of your data
Managed & filtered email notifications
Managed postal notifications
Peace of mind when making changes
DNS backups & TTL management features