Do you want to create an impressive WordPress website without spending hours writing content? Do you want to save money and time by using the power of Artificial Intelligence (AI)? If yes, you will love our new AI Assistant.
The AI Assistant is a smart tool that fills your WordPress website with engaging and relevant copy. You just tell it what you want, and it writes it for you. It's like having a copywriter who never gets tired and doesn't need to sleep.
What is AI Assistant?
The AI Assistant is part of our Managed WordPress hosting service, which already helps you build your own engaging WordPress website with Site Assistant.
But we wanted to make it even easier for you. That's why we added the AI Assistant, which handles content creation for your site. This means no more staring at a blank page, hiring expensive writers, or worrying about how you will write the great content you need for your website.
How does the assistant work?
The AI Assistant is very simple to use. You just ask it to write something for your website, and it does it. You can ask it to write about anything related to your business or passion.
When editing a page of your website in WordPress, you can access the AI assistant through a new star icon in the top right corner, next to the button to publish/update the page.

When you click on it, it will open the AI Tools menu.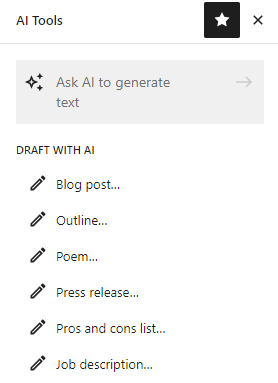 Imagine you're a private tutor. You want to explain to your website visitors what the benefit of home learning is, but you're struggling to come up with the words yourself. You can just ask the AI to do it.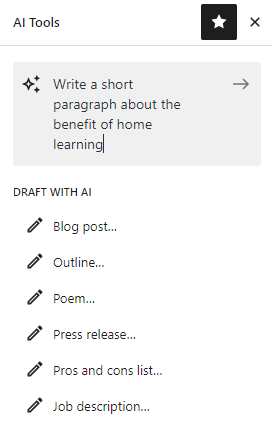 In no time at all, you'll have some text which explains the benefits of home learning.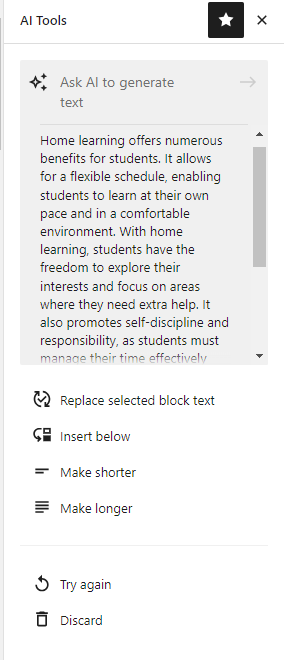 It might not be entirely perfect copy for your particular business, but it's a good starting point. There are links underneath the result that allow you to request shorter or longer versions, or even to try again and create different copy.
You can also give the AI Assistant specific commands, such as "Create a catchy headline for this page" or "Write a paragraph explaining my company values". The assistant will follow your instructions and generate content that matches your tone and style.
Why should you use the AI Assistant?
AI Assistant has many benefits for you and your website, such as:
Saving you time and money
You don't have to spend hours writing content or hiring writers. Instead, you can focus on your core business and let the assistant handle your content.
Getting your website online faster
The AI Assistant writes content fast. This means it can prepare your website for launch or update it quickly, so you can respond to developing situations and trends.
Boosting your creativity
The AI Assistant writes original content depending on what you ask for. This helps you generate new ideas and topics for your website. You can also edit and tweak the content once it has been written to make it truly unique.
How can you get started?
The AI Assistant is available for all our Managed WordPress hosting customers. If you don't have a WordPress website yet, you can sign up for our Managed WordPress hosting service today and get started with the assistant right away.
Our Managed WordPress hosting services are the best way to create a WordPress website without any hassle. And with the AI Assistant, it's now easier than ever.
So what are you waiting for? Try AI Assistant today and let it write your WordPress content for you.
P.S. If you want more help creating your perfect WordPress website, why not download our free eBook – The Ultimate Guide to WordPress for Beginners.