SEO is a big topic in the digital world, so we've created a quick guide to help you get started and get that hard-working website of yours found on Google in 2019.
Firstly, what is SEO? SEO stands for Search Engine Optimisation – the process of enhancing or 'optimising' your website to maximise its visibility in search engine results.
So what does that mean for you and your business? It means you need to make sure your content is relevant and based on the keywords people are searching for. The more relevant your site is, the better chance you have of being found – and that's the bulk of it!
Here are some tips to get you started:
Do your research
Research is key to understanding the market you're competing in. Once the blindfold is off and you start to really understand what your visitors are searching for, you can start tailoring your content towards them.
There are lots of free and subscription-based keyword tools you can use for keyword research including Google keyword planner, Ahrefs keyword explorer, Moz keyword explorer, Google Search Console, SEMRush keyword research tool, Google Trends, KeywordTool.io and of course the Google search bar itself.
Google search is completely free and it's a great tool to use to understand your users' search intent. When you type in a keyword it auto-suggests some more keyword ideas and also shows what 'People also ask' so you can get a real feel for what users are looking for.
Another free tool is Google Trends – you can search for keywords or phrases and see how popular they are before you start writing. Remember, the key is to make sure your content is relevant and useful to your visitors!
Let's have a quick look at a Google Trends example – a website selling fairy lights. To begin, the owner can check how popular the phrase 'fairy lights' is.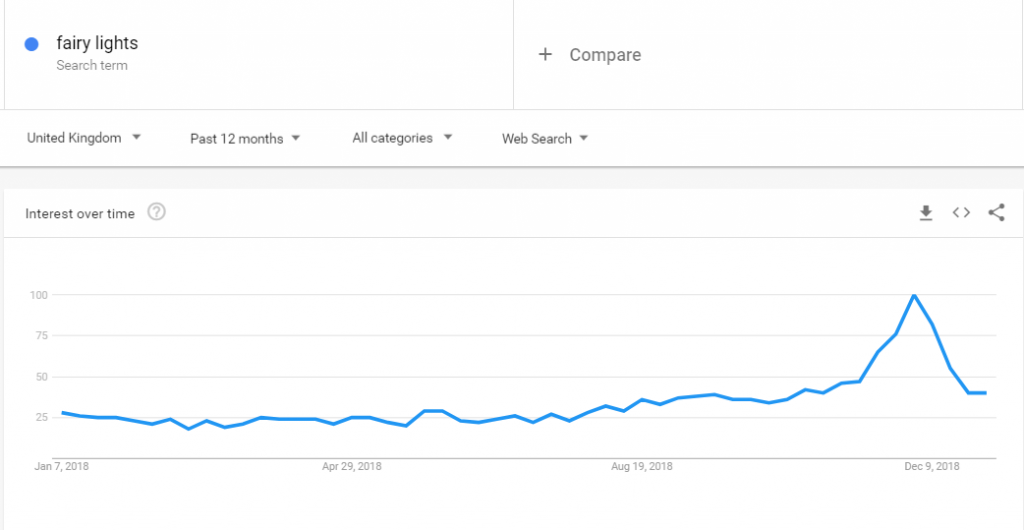 As you can see from the Google Trends data, the phrase is searched for more around Christmas time. You can also compare keywords to understand search volumes e.g. compare 'fairy lights' to 'Christmas lights'.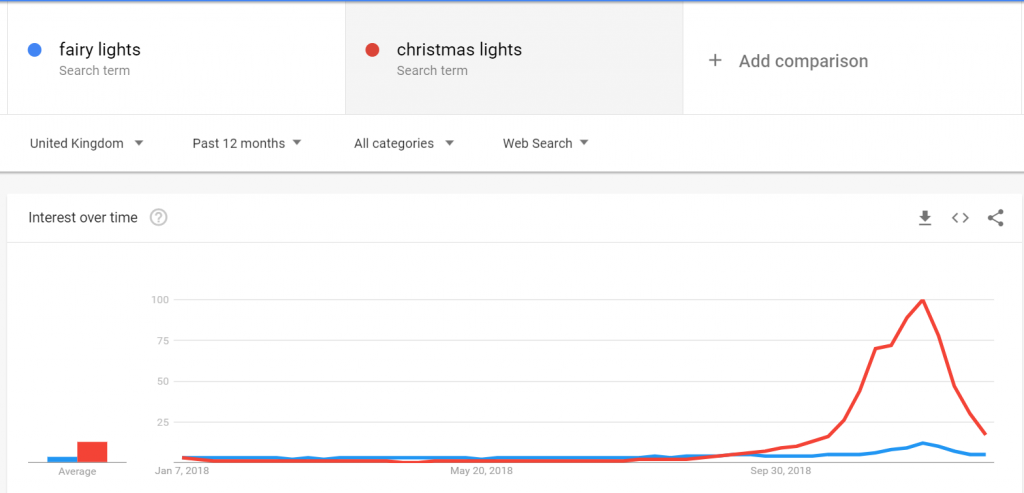 With keyword knowledge you can create valuable content for your website to increase website traffic.
Create relevant page title tags
What are title tags? If you've ever used a search engine before (and we're guessing, you have) you'll have regularly come across title tags.
They are the simple, clickable headlines that you see on the search results page. For example, we searched 'Domain Names', and the title tag is "Domain Names | Domain Registration | Buy Domain Names".

When you create a new page on your website the title is important, in fact it's one of the first things you should do to optimise your website.
Your title tag will work in conjunction with your meta description (this is the text below your title tag). Your meta description is where you can elaborate on your title tag and explain in short, what your content is about. Remember, your meta description won't always be picked up by Google. They sometimes take a snippet of content from the web page as they believe it is more relevant to the search query. It is still very important to craft a good meta description as it could still be displayed.
Here are some important things to remember when you're writing your title and meta description:
Avoid using a long title – it can be unnecessarily wordy and will get cut short.
Don't stuff your title tag with lots of keywords.
Try to include your main keyword in your title tag and at least once in the meta description.
Don't use a description that is too general, like 'this is a web page'
Check out these tips from Google on how to create the best title and meta tag descriptions.
Showcase your customer reviews
Whether you are a new business or an established enterprise, positive feedback has never been so important. When new customers' reach your site, they are putting their trust in you and your business.
Here are some great ways to receive and showcase your customer reviews:
Facebook – engage with your customers on social media and allow them to leave feedback on the experience they had with you. You can then link to your social media pages from your website or add widgets that can display your social media feed on your website.
Trustpilot – you can use a free version of Trustpilot which allows your customers to leave you feedback and also allows you to reply. If you receive a negative review you can communicate with the reviewer to get the issue resolved and build trust that way too. There is also a paid version of Trustpilot that gives you access to many more marketing features and analysis tools.
Google reviews – not only will this help your website rank better, but it also offers another way for your customers to share positive experiences with your business.
Make your site easy to navigate
We're all time-poor these days so when it comes to browsing a website, you want your potential or returning customers to find everything they need before they give up and leave.
The aim is that your visitors should be able to research, commit to an option and complete an action on your website quickly and easily.
The way your visitors interact with your website can be measured by checking the 'bounce rate'. It's the percentage of visits to your site where a user goes no further than the page they first land on. The lower the bounce rate the better.
By making sure your page title, meta description and user journey provides everything your customer needs to make a purchase or take an action, you'll see your website conversion rate steadily increase over time.
Write fresh, engaging content
Everyone wants to get to the 'top of Google' and the best way to start on this journey is to provide quality content for your visitors.
Start by writing about popular topics in your niche and try to become a voice of authority on your subject – help Google understand your website. It's important to never compromise on the quality and standard of your content. The stronger it is, the more chance of your site ranking higher in search results.
Keep your website super secure
A secure website is valuable. Even Google agrees they prefer to rank websites with an SSL certificate over a website without.
A secure site usually has a verified secure certificate installed and the web pages are served over a https connection rather than http. The end result is that the connection between your user and the website is encrypted and therefore much more secure.
Getting an SSL for your website is really easy, you can get started here
Optimise your website for mobile users
People are spending more and more time on their phones so mobile optimisation is a key consideration for your SEO strategy.
Making sure your website is mobile friendly will give your visitors the experience they expect. It encourages them to stay on your website and allows them to buy or take action quickly and easily.
When optimising your site for mobile users, remember to provide short, clear answers so your user gets what they need without delay. Think of how people search on the go – they don't have time to waste, they want immediate answers to their search queries.
DIY SEO can be easy
Optimising your website and improving the visibility of your site is easier than you think. You can start by trying out some of these ideas and over time, you will improve the visibility and results of your website.
Remember, when thinking about SEO, always consider your own online behaviour and get to know your customers' online habits.
Keep an eye on your best performing pages, what makes them stand out?
What keywords do you use and are they relevant to your business?
Are there any small changes you can make to make a big impact?
Happy optimising!