What is a domain name?
A domain name is the address that you type into a web-browser to get to a website. When you type a domain into the browser bar, your computer looks to find an IP address of where the website is located. Domain names were created because IP addresses are made up of a string of numbers… who can remember that?
For example:
DOMAIN NAME            >                  IP ADDRESS
      names.co.uk                >                 85.233.160.210
It's much easier to remember the domain, right?
How are domain names broken down?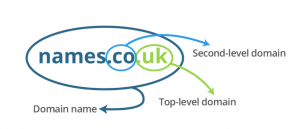 So how do domains work?
Think of it like a sat nav – you type in where you want to go, and in the background, your sat nav searches for the coordinates and returns the route to you.
In the internet world, the 'coordinates' are called DNS (Domain Name System). This tells your computer where to pick up the website from and takes you to your destination.
As you can see above, names.co.uk is on the IP address 85.233.160.210. When searching for names.co.uk, your computer knows to go to 85.233.160.210.
What makes a good domain?
Sit back and think about what you plan to do with your domain name, before making a purchase. There are many things to consider when searching for your perfect domain.
Is your domain memorable?
If potential visitors can remember your domain name, there's a high chance they'll skip a search engine and type your domain directly. Bonus points to you, as your visitor misses the opportunity of spotting one of your competitors!
Think about your suffix
(the bit after the dot) – This is one of the most important things to consider when looking for your domain name.
          The Big One…
The .com suffix is by far the most popular and most recognised globally with over 135.6million registrations worldwide. As it's so popular, many people will automatically type .com and hope to find what they're looking for. If your domain name is available in .com, grab it! You can always set up forwarding to an alternative domain, if .com is not your first choice.
          Go Local…
A country code domain can help with protecting your brand and helps with localising your brand to potential visitors. Local visitors like to see familiarity. For example, .uk for United Kingdom, .de for Germany, .fr for France and .pt for Portugal. International domains are perfect for localising your brand to your customers and make them feel at home. Check out the country code domain names here.
         Niche…
Not only are there country code domain names, but there is a vast array of new domain name suffixes. Some of these include .online, .ninja and .holiday. There are even geo-location domains, such as .london, .tokyo and .berlin. Use your domain to showcase your business or idea, whether you're a photographer, dentist or a blogger, there's a suffix for you – why not take a look at the new domains here?
How does your domain read?
Have a look at these domain names… what do you see?
Speedofart.suffix – We don't see Speed of Art at first glance…
Choosespain.suffix – Chooses pain, or Choose Spain?
Childrenswear.suffix – Children swear?
It may be worth asking a friend or colleague what they see, when you're registering your domain name.
Think about your email address
It's easy to hand out a business card, but if you have to give your email address in person or on the phone, will you have to spell it out every time? If you register a long domain name, like myperfectcompanydomain.suffix, would it also be worth considering registering mpcd.suffix?
Typos
Can your domain easily be misspelt? If so, this could be a problem for your potential visitors! Simplicity is key… Try and keep your domain as short as you can, memorable and to the point.
Now, for some geeky stats!
How many .CO.UK and .UK domains are registered?
Nominet (they run .co.uk and .uk domains) have reported that as of the end of October 2018, 9,783,381 .co.uk domains were registered and 2,143,474 .UK domains were registered. To put that into perspective, 1,649 .CO.UK and 17,652 .UK domains registered during October 2018.
To see Nominet's reports and statistics, click here.
How many domain names are registered to date?
Verisign (they run .com, .net and .tv domains) have announced that the second quarter of 2018 closed with a whopping 339.8million registrations across all domain extensions. That's a growth of 6million domain name registrations since the first quarter of 2018!
To view Verisigns 2018 Q2 report, click here.
Now that you understand domains a little more and what you may want to consider when registering yours, why not check out if your domain is available? Use our handy little domain search below.
If you're wondering what happens after you've registered your domain, check out our recent 'Web Hosting explained…' blog here.