Why buy a .store domain? If the primary goal of your website is to sell, nothing says it better than a .STORE. Whether on a search engine listing or a print ad, users know that a .STORE is a place to buy from.
The .store domain extension is an ideal way to promote your online shop, or even your retail store if you have one!
Your .store domain is available!
When your domain search results always show up with the message 'We're sorry,  google.com is not available' it can get pretty frustrating, and some people fall into the trap of compromising their domain name by adding extra words, numbers or hyphens. Instead, why not check out .store -it's much more likely that the exact name you want will be available.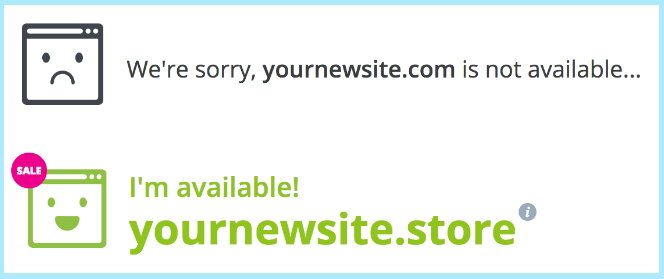 At the current promotional price of just £5.00 (+VAT), which includes a free email address/mailbox and one page website, it's a low cost way towards starting your own online business.
How is .store a better domain extension?
.com or .co.uk are domain name extensions that don't give an indication of the kind of website you're visiting. The beauty of a .store domain extension is it's clear you have an online store with products and services ready to purchase.
Plus, the term 'store' is a common search term in search engines. Whereas someone searching for 'pet supplies online store' using a .com may receive traffic from visitors searching for pet supplies, the use of the word 'store' in your domain name could see extra traffic that the equivalent .com site owner may not receive.
What if you have a website but don't sell things online?
An online store compliments many websites, if you've ever considered selling merchandise a .store can clearly represent the shopping area of your existing website.
What's more .store is memorable. Simple, short and one syllable!
Who else uses .store?
.store domains total 196,189 registrations in 179 countries.Among these are www.f1.store, for all Formula 1 merchandise and memorabilia, as well as the world renowned luxury airliner, Emirates that sells their branded goods at www.emirates.store, testament indeed to the credibility of .store!