Is your website's connection secure? Google Chrome is about to change how non-secure pages are displayed so now is a good time to check.
From this month, Chrome will start marking HTTP sites as not secure so users will be made aware the site is not safe. Often visitors don't realise that anyone on the network can intercept a site loaded over a HTTP connection. This means any personal details such as home or email addresses, bank details, credit/debit card information, security answers etc. can be stolen.
When browsing or buying online, a lock icon in the address bar shows your connection is secure. This icon instils user confidence and trust in the website. Only sites with SSL certificates will display this symbol of security, i.e. HTTPS sites.
Currently HTTP web pages have a neutral indicator in the address bar but soon, there will be an explicit mark to show a HTTP page connection is 'not secure'. Chrome is targeting HTTP pages that collect credit card information or passwords first.

Chrome's long term plan is to extend HTTP warnings and eventually label all HTTP pages as not secure in following releases.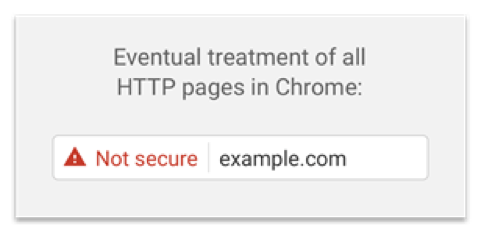 With an SSL certificate, your customers will feel confident purchasing from your site and you'll have peace of mind that all information coming via your site is encrypted.  Protect yourself and your customers against possible threats online. Find out more about SSL certificates.