Names.co.uk is constantly in touch with various registrars from around the world in order to keep up to date with issues affecting the industry. In our communications with them, we have been able to determine that many domain name owners have been targeted with  phishing scam emails.
In light of this, we need to make you aware that these emails (shown below) are NOT being sent from names.co.uk or any other domain name provider we have spoken to. The emails are malicious in nature and should be ignored if received.
In an attempt to bring this to end we are already talking to other registrars whose customers have received these emails and together we are taking action to try and stop this.
In the event that you're ever uncertain about the legitimacy of your emails, we recommend to check the email headers, from here you  are able to see the true 'from' email address an email communication has been sent from. You can check the headers of an email without opening it, using our own webmail (names.co.uk/webmail) just by right-clicking the sender/subject line and selecting 'View Source'.
Once you have determined the email address  to not be legitimate, we would recommend  you blacklist the sender, instructions on how to blacklist email contacts can be found here in our Knowledge base article.
Like names.co.uk, email providers such as Hotmail or Outlook.com, Gmail make their own efforts to eliminate phishing scams and protect their customers. If you believe you have received a phishing email, you can report it to your email provider, instructions are shown below. Reporting phishing emails significantly lowers the credibility of phishing scam operators emails and increases the likelihood that their future emails will be sent  to junk folders or in some cases  may not be delivered at all.
We all play our part in stopping phishing emails and here are some of the ways you can help:
Hotmail/Outlook
Highlight the selected email from your inbox and from the top menu select Junk then Phishing scam.

Gmail
You can report phishing emails to Gmail at the following web address:
https://support.google.com/mail/contact/abuse
Yahoo
You can report phishing emails to Yahoo at the following web address:
https://help.yahoo.com/kb/SLN3402.html
This particular phishing scam is being sent to the registrant email address and appears to be from domain name providers, these details are being scraped from the public WHOIS record for the domain.
It's worth mentioning that your own details can usually be hidden from WHOIS records, depending on the registration type and domain suffix. To enable WHOIS privacy for your own domain name, log in to your online Control Panel at http://admin.names.co.uk, click 'Domain Names' from your left hand menu, select the domain name for which you want to enable WHOIS privacy and from the left hand menu click on the 'Whois Privacy' option.
If you receive an email claiming to suspend your domain name for violation of an abuse policy:
* DO NOT click any links
* DO NOT reply to the email
* DO NOT call any phone numbers listed within the email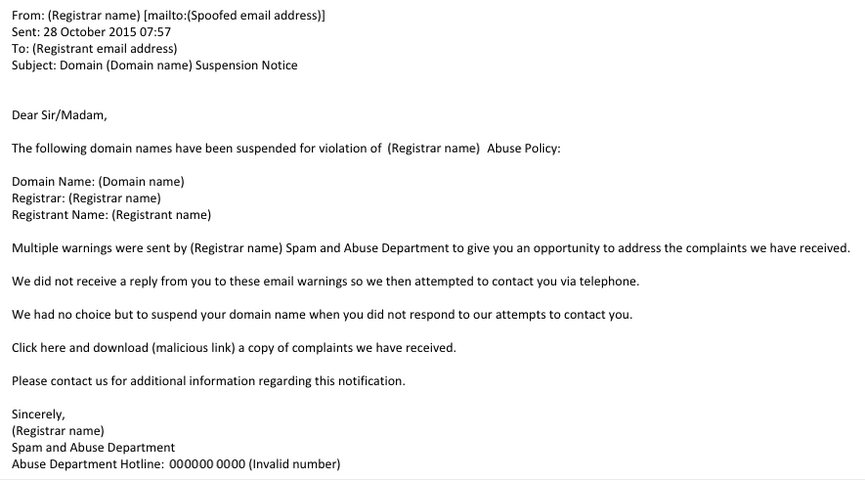 Example
Please note that although steps may have subsequently been taken to hide your details from WHOIS records as a result of this article, this may not eliminate you from receiving this particular Email but goes a long way to ensuring your privacy in future.