We are excited to announce an upgrade to our WebMail that will make staying in touch a whole lot easier.
Not only does our WebMail look much better than before, it also includes features to make email even easier to use and manage. Best of all, our WebMail is now mobile compatible so it looks and works great on smartphones. You still get all of this FREE with our email services, whether you have an Email Hosting plan with us, or free email with your domain name, Web Hosting, CloudSite, Office 365 or an Ecommerce package!
For WebMail 5 we've gone for a cleaner look without all the clutter making the interface much more user friendly. This update is rolling out over the next couple of months, but you can upgrade to it today at webmail.names.co.uk.
Previous versions of WebMail will be taken out of service on 20th January 2016.
So what can we tell you about some of WebMails' features? Let's take a look at the best bits:
Use webmail on your smart phone. You no longer need access to a computer when you're away from your home and office, just reach for your phone and your emails are at your fingertips.
We've made everything you need in WebMail a few less clicks away.
You can set up standard responses, send them as they are or make a few simple changes to personalise your replies.
Sharing key information and documents just got easier, simply drag and drop attachments in to your messages.
Managing your emails couldn't be simpler, create new folders to better organise the mail you receive, then simply drag and drop emails into those folders.
Manage your time effectively with your own calendar, plan your schedule and set handy reminders ahead of your meeting or events.
Find-as-you-type address book, begin typing your contacts name or email address and WebMail will do the rest.
Set up auto responders for when you know you'll be unable to respond to your emails quickly. An auto responder is the perfect way to let everyone know that you're unavailable, but that you'll reply as soon as you can.
You can blacklist nuisance email addresses so you'll stop receiving emails from senders you have no interest in.
As you can see, there are many features in webmail designed to help you communicate more efficiently and to free up more of your day. Managing your email and time just got a whole lot easier with WebMail 5.
Already a WebMail user? You can import your WebMail preferences, contact list, calendar etc from the older versions of WebMail to the new version. When you first log in to WebMail 5, your data is migrated from the version of WebMail you used most frequently in your last five logins but if you know you have data in another version that you'd also like to import, select 'Settings' in the top right hand corner of WebMail 5 and then 'Data Migration' as set out below: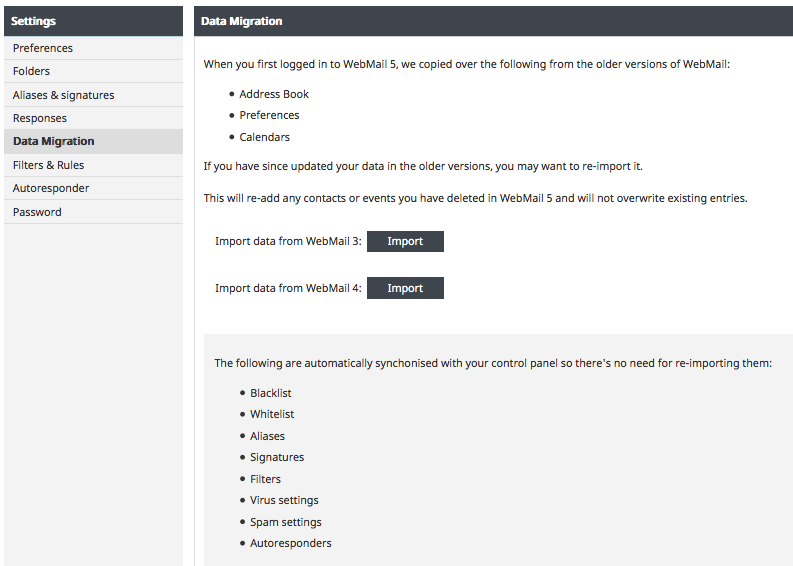 We have a whole host of new guides available for WebMail 5 at https://www.names.co.uk/support
What are you waiting for? You can log in and start using it today at webmail.names.co.uk