How to Renew Your Services
For all services, you need to renew periodically if you want to keep the services up and running. As such you can easily manage your renewals through your Online Control Panel at any time to suit you. We also have multiple ways to assist you with your renewal process.
How do I manage auto-renewals on my account?
With names.co.uk we offer an auto-renew service to help make this process easier. To access your auto-renewal settings please visit your renewals page from under the billing section of your online dashboard.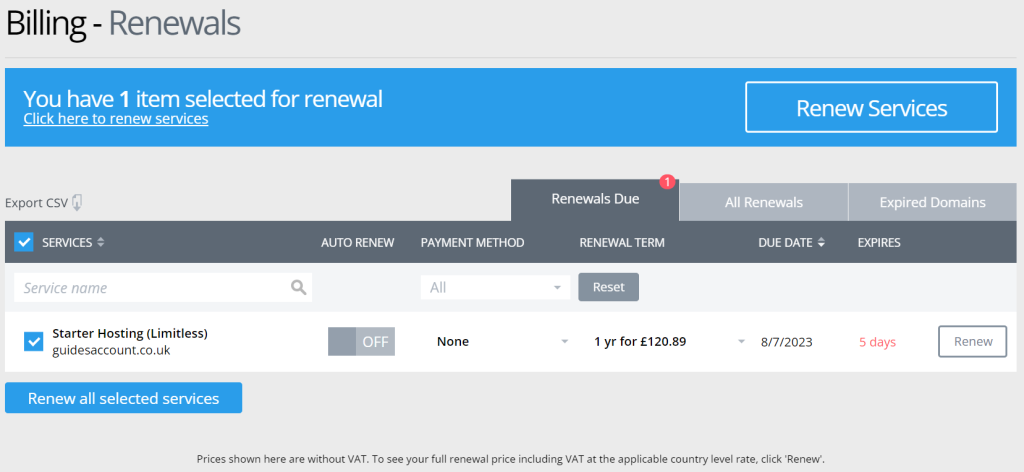 This page will list all the services in your account with due renewals. To adjust your auto-renewal, simply toggle the Auto Renew option On or Off.
When disabling Auto Renew, a confirmation prompt ensures your decision, accompanied by a helpful reminder of the renewal deadline to ensure your services remain uninterrupted.
Tip: Auto-renewals will be processed at the end of the term of your services. You will want to ensure you have a valid payment method in place otherwise you will risk your services going offline.
Note: When you first add a card to your new names.co.uk account, it will automatically apply to all your products and enable autorenewals.
How do I know if a manual renewal is due?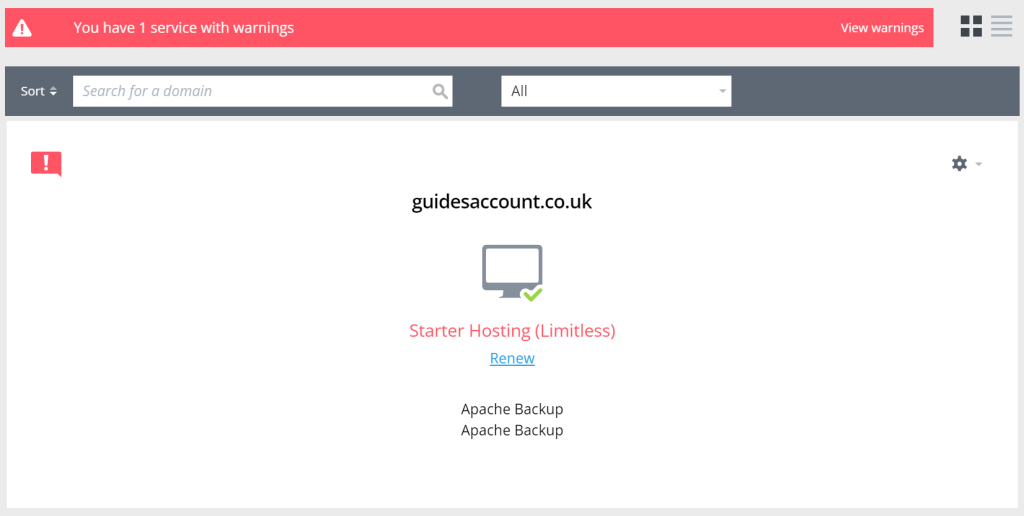 With names.co.uk you can renew many of your services at any time. Don't worry, you won't lose any remaining time, your renewal is seamlessly added to the end of your current subscription term.
If you prefer to manually renew your services instead of using our auto-renewal service, this guide will show you how to manually renew your services.
To make sure you have plenty of time to organize your payments, we send renewal notifications approximately six, four, and two weeks before your products expire. Once you receive a renewal reminder, you can renew at any time that suits you best.
Tip: You can adjust these notifications from the "Notifications" section of the Account details page of your online dashboard.

How do I manually renew a service?
To easily manage your renewals, head to the Renewals page located under the billing section of your control panel.
When a renewal is due, it will be displayed on the first tab labelled "Renewals Due," providing a clear overview of all your upcoming service renewals. Even if you don't have any immediate renewals, you can always access the "View All" tab to see a comprehensive list of all your services.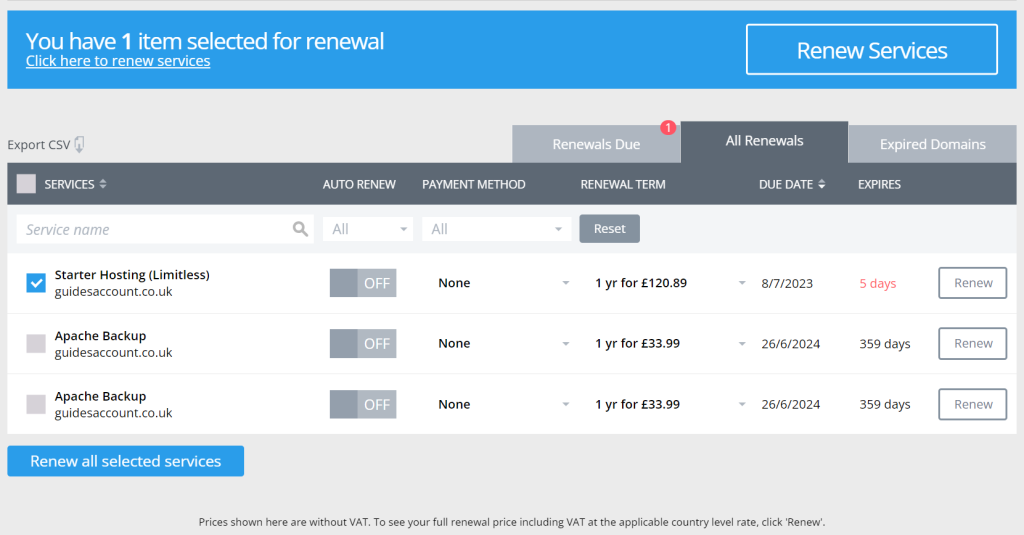 To renew a single service, simply locate the service you want to renew and click on the Renew button positioned to the right.
For renewing multiple services simultaneously, utilize the convenient tick boxes on the left side of each service. Once you have selected all the desired services, click on "Renew Services" to initiate the payment process.
If you have a valid card on your account that has not expired, it will be displayed as an available payment option. You will find it alongside the options to "Add new card and pay." In case you don't see a card available for use, choose one of the other two alternative options provided. Rest assured, we've made the process seamless and flexible for your convenience.

Info: Hosting and domains are separate and will need their own individual renewals. Ensure you renew both to ensure you do not lose your services.
Congratulations on successfully renewing your services! If you have any additional questions or concerns about payments, you can easily reach out to our Customer Care team at 0345 363 363. They will be more than happy to assist you.
Alternatively, you can also raise a ticket directly from your control panel. Simply navigate to the support section, and you'll find an option to raise a ticket. Our support team will promptly address your inquiry and provide the necessary guidance.