A small number of customers have received a phishing email with the subject line, "Not renewed". It requests payment for a domain name renewal. It instructs the recipient to go to a payment form in an attempt to obtain sensitive personal information like a login password and payment details.
The email reads as follows: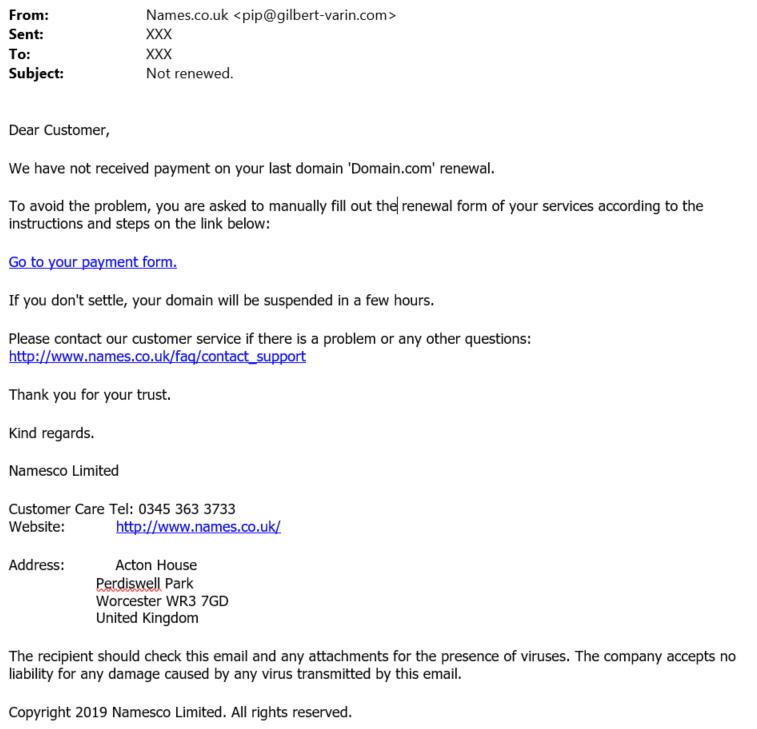 The customers targeted may have had email addresses set up beginning with generic terms like info@. Generic email addresses like this are easier to guess so they are more likely to receive spam mail and occasionally phishing emails.
What should I do if I received this email?
Do not reply to it
Do not open any of the links
If you think you may have clicked a link, please contact us immediately on 0345 363 3633 or drop us a ticket from within your Online Control Panel.
If you have any concerns, please update your Online Control Panel password here.
How can I protect myself from phishing emails?
If you click a link from within an email, always check that the web address is one you recognise. For example, you log into your names.co.uk Online Control Panel at https://login.names.co.uk/login.
Check if the website is secure by looking for a padlock symbol in the browser address bar. If you see this symbol, it means the site has been validated with a secure SSL Certificate and it is safe to use.
It is good practice to regularly change your login passwords to stay as secure as possible online.