How to setup an Exchange account in Mac Mail
This article will guide you through configuring your email on Mac Mail.
Note: Third-party software cannot be supported directly by Namesco. If you cannot find the exact software version you are using or have further questions about configuring your Mac Mail for any reason, please visit: Apple – Support – Mail section
Mac Mail will open in one of two ways – the first indicated by Step 1a and the second indicated by Step 1b
1a – If you have no accounts already set up in Mac Mail, you will see the screen below. From this screen select Exchange (Once you have done this, proceed to step 2.)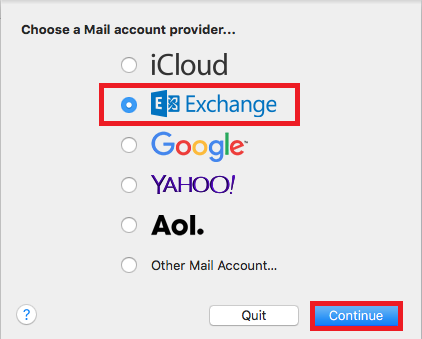 1b – If you already have accounts set up in Mac Mail and you wish to add another, select the Mail menu and click Add Account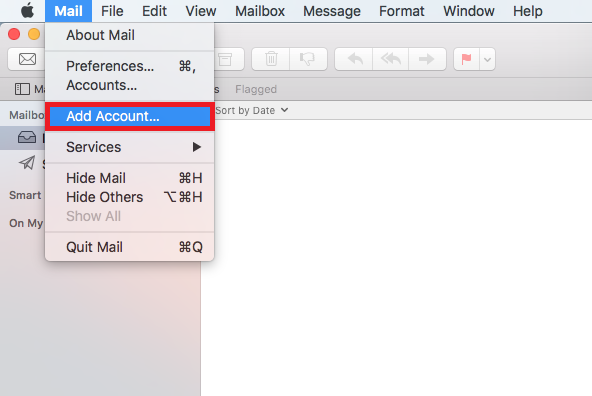 2 – On the Exchange setup page you will need to enter the following information:
Name – enter your own name or company name depending on what you would like recipients to see
Email Address – enter the email address for the user you are setting up
Password – enter the password for the user you are setting up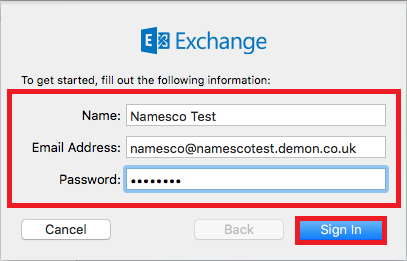 Click Sign In
You will then be asked to select the apps you want to use with your account.
Click Done to complete the setup.