WARNING - Changing your hosting from web hosting to either of the other options will remove all website files and databases. Please ensure you have a full backup of your website and databases before proceeding with these instructions.
Click on Domains in the left hand panel.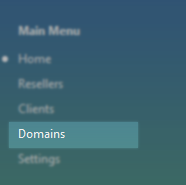 Click on the Domain Name that you wish to change in the middle section.

Click on Web Site > Change Hosting Type

Change the new hosting type to either Forwarding or No Hosting.