Vacation Messages
Vacation messages (also called Out-Of-Office Replies or Autoresponders) let you send an automated reply to any email you receive. This is commonly used when you will not be able to access email for any length of time, such as annual leave, but can also be used to let people know you've received their email.
Webmail uses the Sieve scripting language, which is a powerful method of adding rules and filters to your mail. The interface for this in webmail provides basic and advanced options for use, allowing you to fine-tune your rules
1. Accessing the Vacation section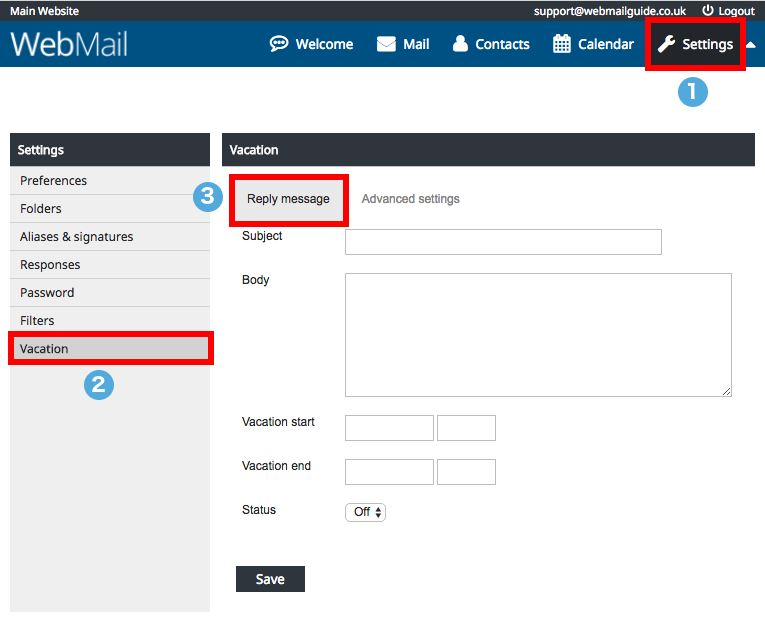 Once you are logged into your webmail account, click on the Settings (fig.1 – 1) link, then on Vacation (fig.1 – 2)
The Reply Message section (fig.1 – 3) gives you the basic options for setting up a Vacation message
---
2. Setting Up A Basic Reply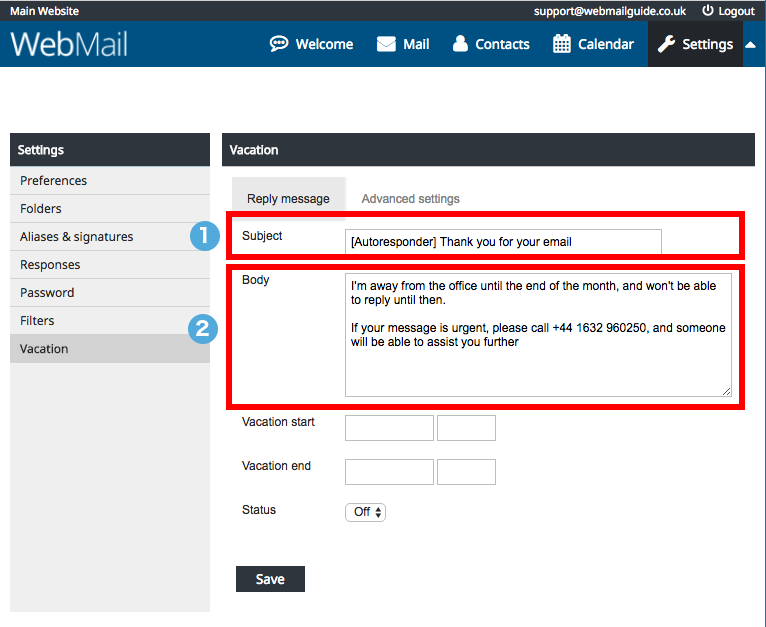 Create your reply by setting up a subject line (fig.2 – 1) and the text you want to send (fig.2 – 2). 
Note: You cannot use HTML in the reply, only plain text
---
3. Setting When The Vacation Message Will Work (optional)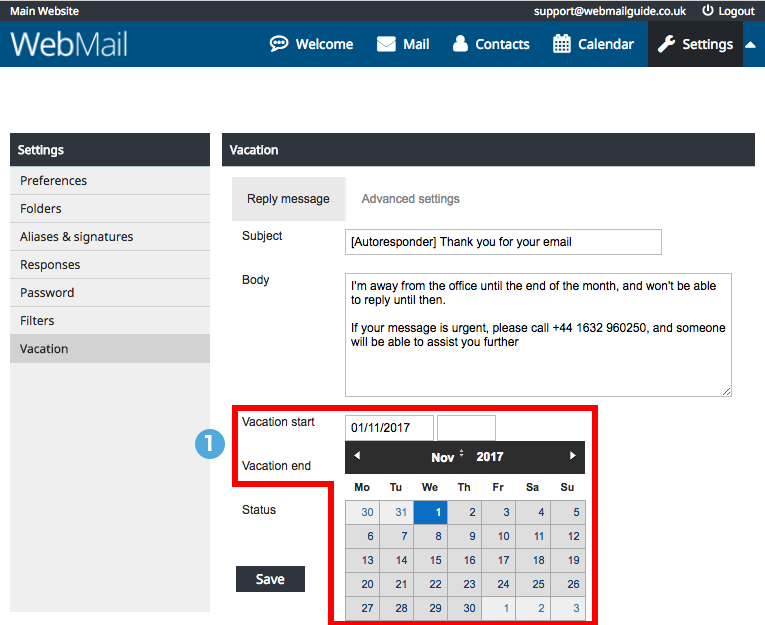 Not only can your Vacation message can be on or off, you can also specify a date range when it is enabled.
Clicking in the boxes for Vacation Start and Vacation End (fig.3 – 1) lets you set the date and time for when your Vacation message will send out automatic replies.
---
4. Enabling Your Vacation Message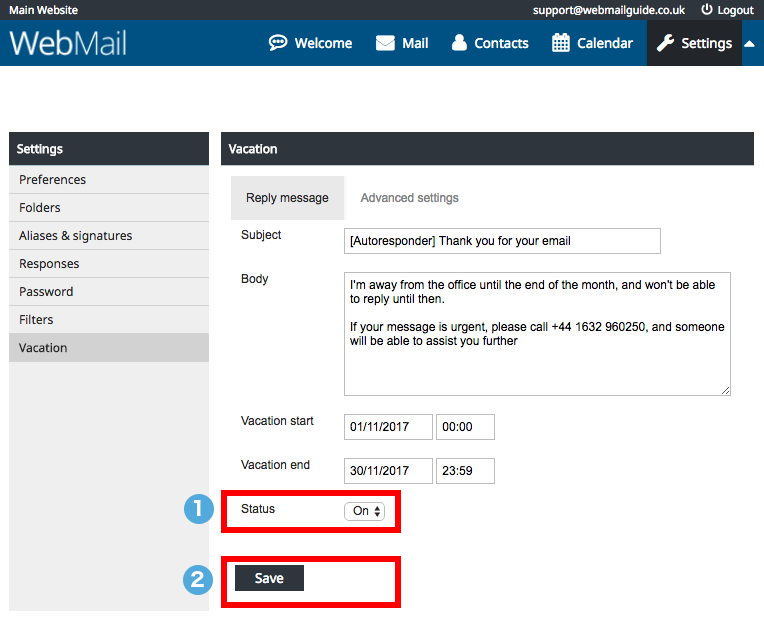 The final step to creating your own Vacation message is to enable it (fig.4 – 1) and then saving it (fig.4 – 2).
The Vacation message will run between the dates you have specified, or if you have left these blank, from that moment on
---
5. Advanced Options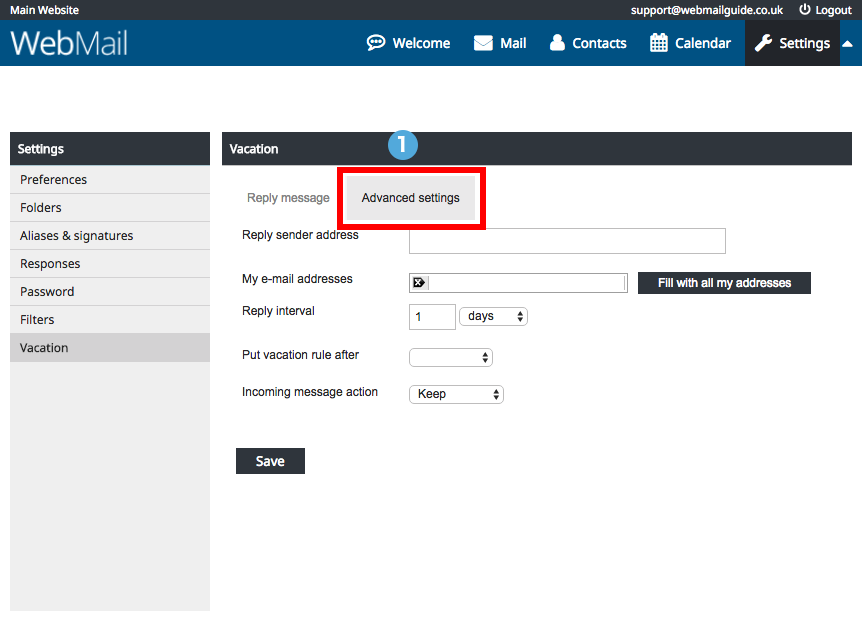 If you're wanting more control over how your mailbox will send out a Vacation message, the Advanced Settings tab (fig.5 – 1) lets you fine-tune your settings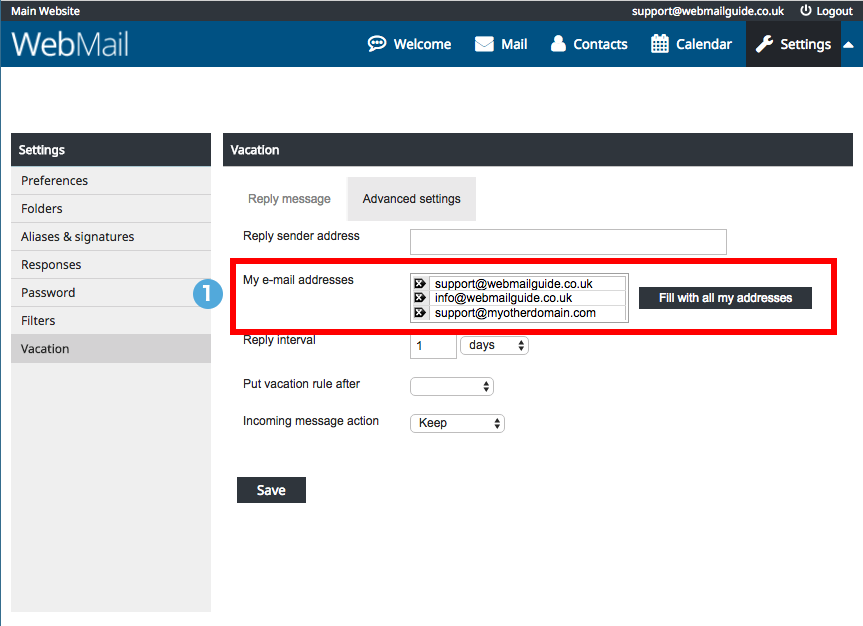 The most useful of these options is the My Email Addresses section (fig.6 – 1). If you have multiple email addresses being delivered to your mailbox, you can set which ones will use the Vacation message.
For example, your mailbox collects mail for
info@your-domain.com
enquiries@your-domain.com
john.doe@your-domain.com
It also has emails redirected there from
info@your-other-domain.co.uk
jane.doe@your-personal-domain.com
You want emails to the info@ and enquiries@ addresses to send out a Vacation message, but not any that come in for john.doe@ or jane.doe@
To set this up, add the email address, one at a time, to the box in the My Email Addresses section, hitting enter after each one
Only emails addressed to these listed here will trigger a Vacation message. Emails to other addresses the mailbox collects will simply store the emails as normal.