Updating your contact details
It is important that your contact details are kept up to date at all times to ensure that we can inform you when your services are due for renewal. It is possible to change all details we hold for your account, including your account password, from within the Online Control Panel
To begin, login to your Online Control Panel and select Account Details from the Account menu.

This will take you straight in to the page shown below and from here you can update the details that we have on record for you. To update any of the fields on this page, select the respective Edit link to the right of the page.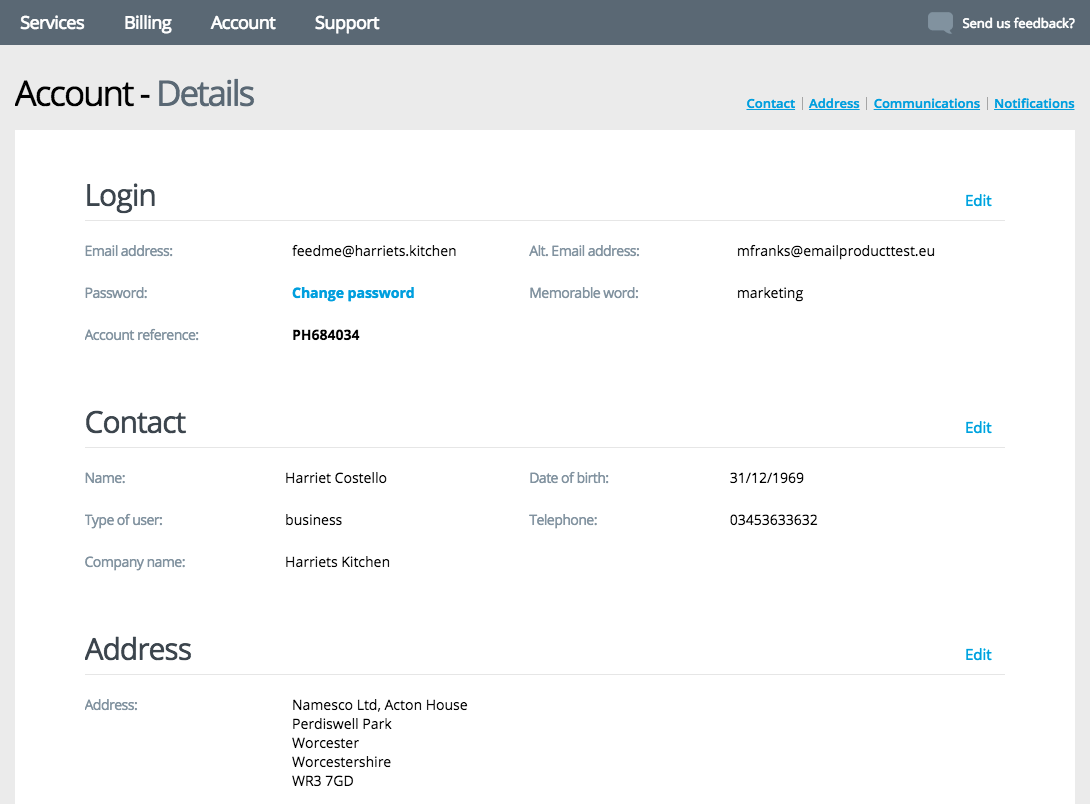 Most of the fields shown on this page are fairly self explanatory but there are a few that warrant a more detailed explanation.
By clicking on the Change Password link you'll be able to update the Control Panel login password right here on the page
Email address – this is our primary means of contacting you and is where all of our notifications about upcoming or failed renewals will be sent to. It is therefore very important to ensure that this is kept up to date.
Alternative email – we will occasionally use this address if we have been unable to solicit a response from you from your main email address. Note – this field is optional.
Password – as the means of access for your Online Control Panel, this password should be as strong and secure as possible. We recommend a minimum of eight characters with at least one number and one symbol. Note – our staff will NEVER ask you for your password and you should never divulge it to a third party.
Memorable word or phrase – this is used whenever you telephone our Contact Centre and is used by our advisors as a means of validating your identity. It should be something specific to you that you can quote over the telephone when asked.
Once you have made any changes, select Save at the bottom of the screen to store the changes.