How to add a signature
Signatures are a great way of adding a professional touch to your emails. In this article we will look at how we can create an email signature within Webmail. If you send emails using a different email application such as Outlook or your phone, you will need to add your email signature within that application instead.
To create a signature that will appear at the footer of each of your Emails in webmail, first select 'Settings' from the top right of the screen.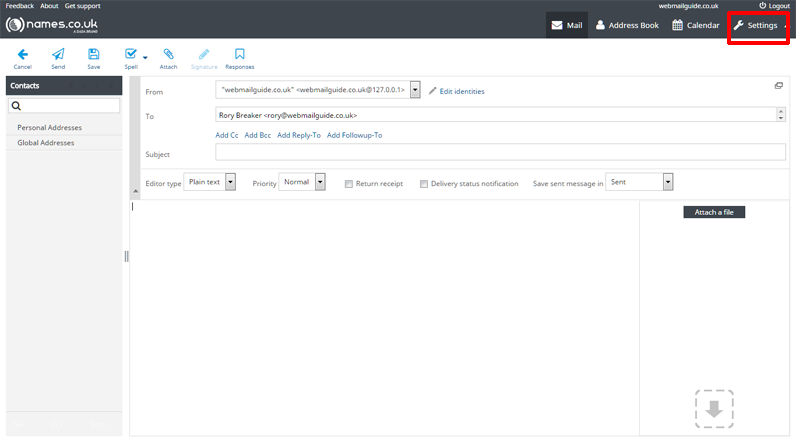 You can add a signature to your webmail account which you can then chose to attach or remove from any email you send out. The signature will accept HTML code, so it is possible to add links, and even pictures to your signature.
To add a signature, first select 'Identities' from the far left column of Webmail, to the right of that select the Email address on which you want this signature to appear(Yes, you can send from multiple Email addresses each with different signatures), then click in to the 'Signature' box and commence by adding your desired text in your desired format right here before pressing 'Save' to ensure the signature is kept.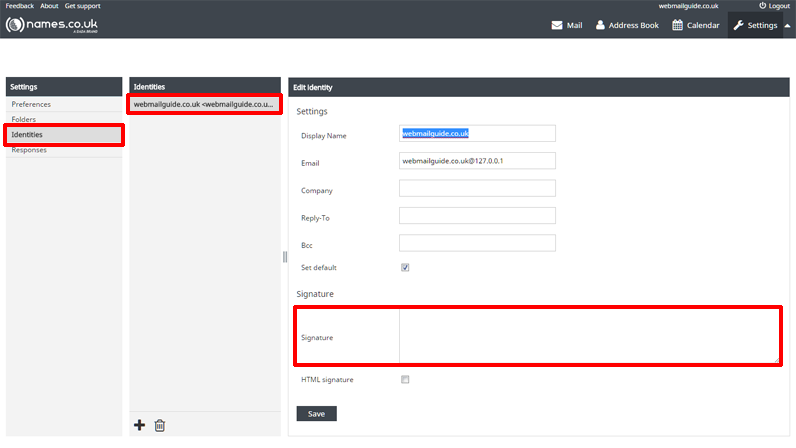 By default a HTML signature will not be enabled but you may wish for your company logo to appear in your signature and also to have a link for your website, to do this ensure that you have ticked the 'HTML Signature' box beneath the signature field, note that if you already have text in your signature box, copy this text as ticking the 'HTML Signature box' may delete its contents. You'll then see a screen like this, where you can create your HTML signature: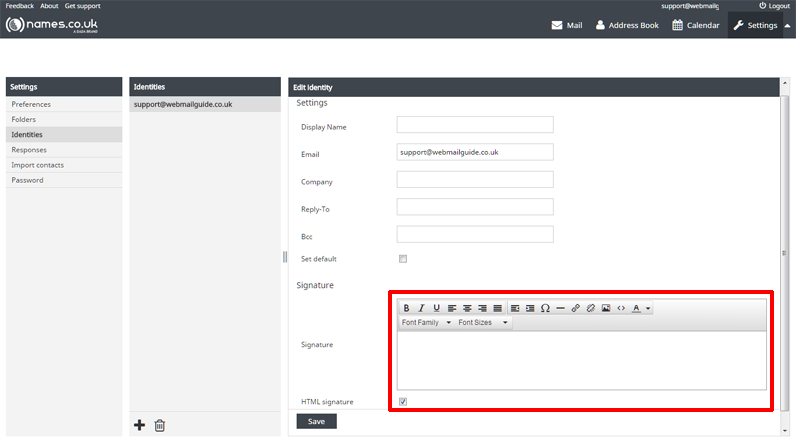 Adding a link or a logo
Ensuring that 'HTML Signature' is ticked, you'll notice the HTML text formatting toolbar in your signatures area. These three icons are of particular interest, as (in the order displayed) they will help you add a link to text, remove a link from text and add an image/logo.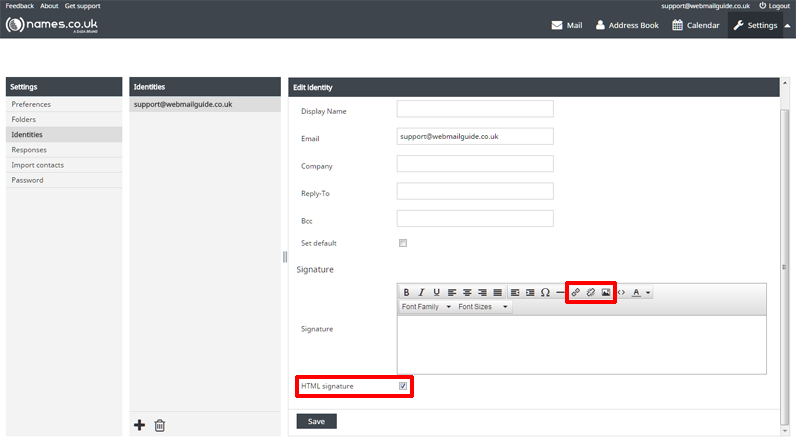 To create a link, first highlight the text in your Email which you'd like to become a link to another page or an external web page, then click on the link icon and this window will appear, add the 'URL' – the web address you want the link to send your Email recipient taken to when clicked, the 'Text to display' should contain the words in your signature which you wish to become a link, the 'Title' is a description of the link such as 'Our Website' – words that appear when someone simply hovers their mouse over the link to see what it does and the 'Target' relates to what happens in the recipients web browser when the link is clicked, should the browser open this link in a new tab/new window, or not? You can choose here.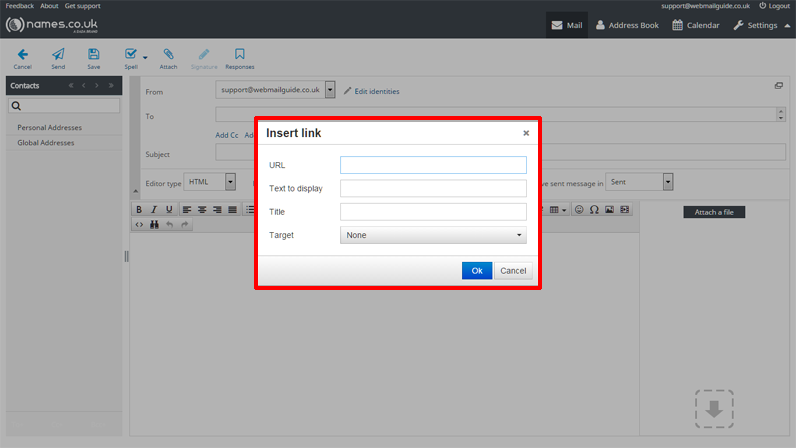 The next icon, which looks like a broken link in a chain, unlinks any text that have had links assigned to them. Highlight the linked text with your mouse, then click the unlink icon, this will render the text as normal text.
The final icon refers to pictures, for the purpose of the signature this is usually a company logo for example. You can upload your image or logo here, define it's dimensions too. Setting the dimensions is recommended, unless your original image/logo file is already small enough to sit in a foooter, the option to constrain proportions of the image means that regardless of the size you reduce it to, the image doesn't distort, unticking the constrain proportions option is generally not recommended unless you're particularly unhappy with the original image file.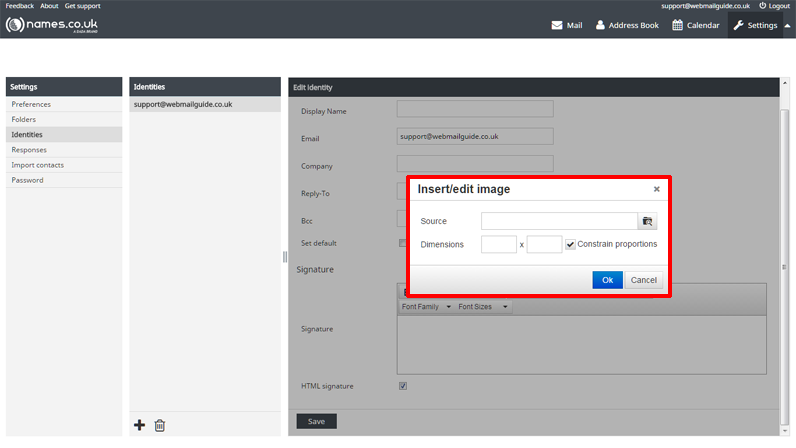 Once the signature is finished, press 'Save'.
To ensure that your signature is or is not displayed in the footer of each Email you write, be sure to check your identity preferences, you can find these by clicking on 'Settings' up in the top right of your screen, then as below select 'Preferences', 'Composing Messages' and scrolling down to Signature Options. Again, press 'Save' when you're done.