This article will explain why IMAP is the best connection type to use when adding your email account to your devices, and why we do not recommend using POP!
Both IMAP and POP are internet protocols which allow your mail applications, such as Microsoft Outlook or Mac Mail, to connect to your mailbox on our server and retrieve emails.
What is the difference between POP and IMAP?
POP stands for Post Office Protocol, and is now old and outdated. It is used to download any emails stored on the mail server directly to the device itself. By default your mail application will then tell the server to remove the emails once they have been downloaded to the device. Because of this, POP should never be used to connect your mailbox to multiple devices.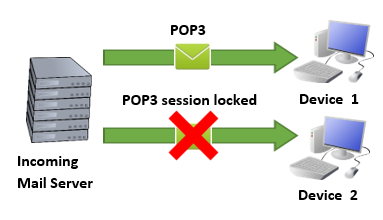 IMAP (Internet Message Access Protocol) is by far the most popular protocol used to connect a mail account, as it will synchronize all emails and folders across all devices. This is because your mail application will not physically download and delete any emails from the server with IMAP. Instead it will synchronize with what is on the server. For example, if you were to move an email from one folder to another on your iPhone, this would be replicated on your Outlook too. This functionality would not work with POP.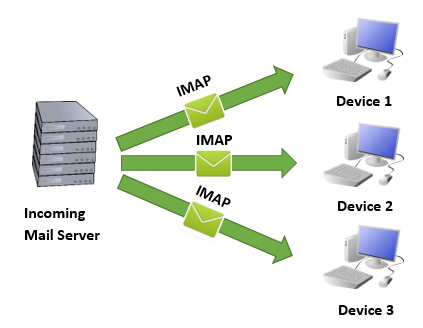 Should I be using POP or IMAP?
We always recommend using IMAP when adding your mail account to your device. It will allow all of your devices to stay in sync with one another, making it much easier to manage your emails.

POP is a much older connection type which is even unsupported on some mail applications. Using multiple POP connections at once can also cause service issues. Nowadays most people like to have their email account setup on more than one device, making IMAP the preferred connection type.
How do I setup my email account using IMAP?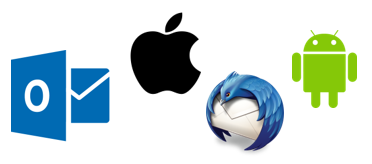 We have created some easy-to-follow picture guides on configuring your email account using IMAP on a variety of applications. Please click the link below to access our support articles:
https://www.names.co.uk/support/email/imap_client_configuration/388/
But what if I already have a POP account setup? Can I still change to IMAP?
Absolutely! Changing over to IMAP will require you to add a new email account to your device. Feel free to use the link to our guides above on setting up a new IMAP account.
As you will now have two accounts setup on your mail application, you will need to remove the original POP account.

Typically only the desktop mail applications, such as Microsoft Outlook, will allow you to make a backup of your current email account. We have provided a guide below on how to backup your emails within Outlook 2016. Please note that the process with other versions of Outlook may differ slightly.
How to backup your email account within Outlook 2016
Unfortunately names.co.uk does not support third party mail applications, and any guides and support on third party software are provided purely out of courtesy. Names.co.uk will not be held liable for the loss of any emails.